Be Strong
Be Strong
Being a single parent definitely isn't easy, but you can do this. No matter what your challenge, there is a way to work it out.
Keep your head high, and surround yourself with positive people and positive mental energy.
Post-Divorce Success
This series of posts may be just what you need if you still feel yourself in a divorce funk.
Monday Morning Motivation
For a quick pick-me-up!
Latest Articles in 'Be Strong'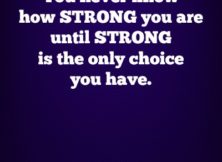 Difficult times don't last. Strength to get through the day and look for a better tomorrow.
When I divorced, the part of me that tries my best to stay upbeat and positive was honestly excited at the possibility of what my life could become, especially with regards to a career. Yet many months later, I still felt stuck going nowhere. I was completely without focus. I had a lot of exciting […] Read More
Mother's Day as a single parent... sad for some. Let's choose to be happy and make the most of it instead. :-)
Single mom, you can do this! Take responsibility, make decisions and build your own fabulous future. It's yours when you know the secret.